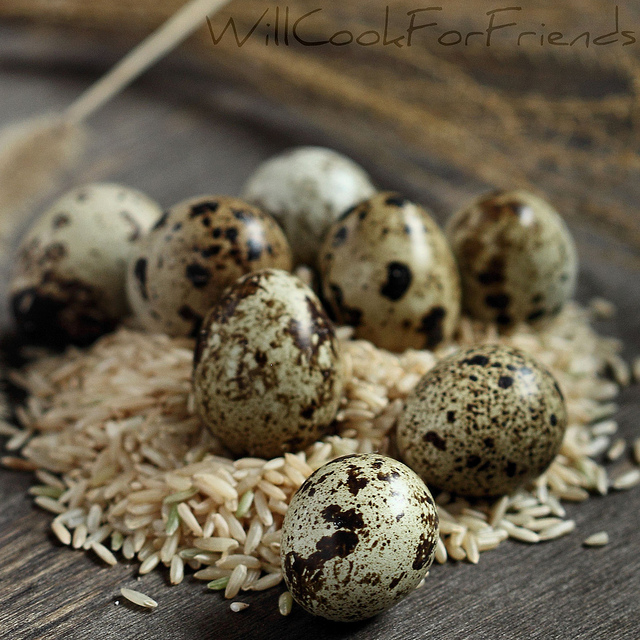 (Tiny speckled quail eggs nestled on dry brown rice. Multiple recipes in post.)
Earlier this week, while at my local fish and meat market, I spotted a small plastic carton of eggs. Little, speckled, adorable eggs. Huevos de Codorniz, they were labeled – Quail Eggs. They were the only ones there, and I was instantly enamored. Jackpot! I thought, and immediately purchased the entire dozen.

(One dozen huevos de codorniz – eggs of quail.)
I brought them home, and after gazing at them for several long and loving moments I began to realize I had no idea what to do with them. Well, let me tell you… if you ever get your hands on some quail eggs, the very first thing on the agenda should be showing all your friends. Take pictures. Take lots of pictures.
(Look how tiny! On the right you can see one quail egg is only about 1/3rd the size of a regular 'large' hen's egg.)
(I had so much fun photographing these… I was reluctant to break them open.)
Once I'd gotten that out of my system, it was time to move on to phase two of operation quail egg: what to make with them!
First off, quail eggs taste a heck of a lot like chicken eggs – I doubt anyone would know the difference if not for the size. But, because of the inherent cuteness factor, they were the perfect excuse for making tiny things.
Like this Bird's Nest Breakfast Bowl!
(Sunny-side up quail eggs in a nest of hash browns and bacon, garnished with sprigs of thyme. Yes, it's edible – recipe in post.)
I decided to make several of the fanciest things I could think of. All of these can be made with regular hens eggs, but with these cuties on hand why not make the most of them? Of course, over easy with toast is great, too.
For breakfast, how about Quail Eggs Benedict-style?
(Poached quail eggs resting atop garlic and butter toasted baguette, sauteed mushrooms, and drizzled with a light and fresh Bearnaise sauce – recipe in post.)
Perhaps for lunch you could treat yourself to these bite-sized hard-boiled Quail eggs, seasoned with truffle salt.
(The white truffle salt was a gift over the holidays, and adds a fantastic depth of flavor – especially to egg dishes. Whether you get white or black truffle salt, be sure it has actual truffle in it and not just 'truffle essence' or the like. Mine came from The Spice House, and can be ordered online – recipe in post.)

And for dinner, bring on the pasta carbonara!
(Pasta carbanara with pan seared pancetta and manchego cheese – recipe in post.)
And of course, to accompany the main course, a light salad topped with deviled quails eggs.
(Shaved fennel root and smoked salmon salad, topped with deviled quails eggs and salmon roe caviar – recipe in post.)
Whew, what a day! I wish all eggs were so cute.
While quail eggs are a bit of a delicacy here in the states, in many parts of the world like Columbia, Venezuela, and even Japan, they are not so rare. In fact, they're often sold as street food in Vietnam – go figure.
I was pretty lucky to spot them at the fish market (of all places…) but you may have luck finding them at Asian or international markets.
Whether you have quail eggs or not, these dishes can easily be made using regular chicken eggs. They are nutritionally and flavorfully comparable. The biggest difference I found in using quail eggs was that the membrane between the shell and the yolk was slightly thicker – this made them easier to peel when hard-boiled, but harder to crack when not.
Happy cooking!
______________________________________________________
Bird's Nest Breakfast Bowl
(Serves two)
4 quail eggs (or 2 regular)
1 large russet potato
2 strips of bacon (optional, but recommended)
Sprigs of fresh thyme (optional)
Salt and pepper
Olive oil cooking spray
Method:
Preheat oven to 400f.
Cut strips of bacon in half horizontally, then make very thin 'matchstick' slices lengthwise. Place in a bowl and set aside.
Wash the potato, but do not peel it. Grate it lengthwise on a regular cheese grater, then add the grated potato to the bowl with the bacon and toss to combine.
Add a pinch of salt and pepper – I went easy on the salt because of my bacon, so keep that in mind.
Use cooking spray to thoroughly coat the bottom of an UPSIDE DOWN muffin pan. Spray from two opposing angles to be sure it's covered.
Pile a mound of the potato mixture into one hand, then make a well in the center. Invert your cupped hand over one of the upside down muffin tins and press the potatoes into place. Fill in any gaps around the sides with more of the grated potato. This should make about four individual nests.
(Alternatively, pan fry the hash browns and bacon and serve alongside the eggs. Simple is good.)
Place muffin tray onto the  middle rack of your preheated oven, and let back 20-25 minutes or until the exterior of the nests are dry and begin to brown. Remove from oven, and carefully pry nests off of the muffin tray (the use of a spoon or spatula may help, here).
Set into small bowls or ramekins, and (optionally) stick sprigs of thyme around the edges. Set aside.
While nests are baking, spray a pan with cooking spray or add olive oil or butter and put over medium heat.
Crack eggs into the pan, and cook however you like. Sunny-side up, over easy, scrambled, etc. Season lightly with salt/pepper and serve in nests.
To eat: remove sprigs of thyme and rub between fingers into the bowl. Add a dash of hot sauce as per your taste, and dig in with a fork and knife.
________________________________________________________________
Quail Eggs Benedict
(Serves two)
4 Quail eggs
4 slices French baguette
1/4 cup sliced mushrooms (Cremini, button, etc.)
2 TBSP unsalted butter, separated
1 clove garlic, minced
For the Bearnaise sauce:
2 quail egg yolks (or 1 regular)
2 TBSP butter, melted
1/2 shallot, minced
2 TBSP white whine
2 tsp. tarragon vinegar
1 tsp. fresh or dried tarragon
1/8th tsp. grated nutmeg, fresh if you have it
Salt and pepper to taste
Method:
For the eggs:
To poach the quail eggs, bring a pot of water to a gentle boil. Lightly rub (or spray) the inside of a metal ladle with olive oil. Once the water begins to boil, crack one egg into the oiled ladle and lower the bottom of the ladle into the water. Very slowly and carefully, lower one edge of the ladle so that a small amount of water can drip in. As the egg begins to cook more, let more water spill in. Once the white of the egg is completely opaque, remove the ladle and tip it against the inside of the pan to pour out the water. Gently wiggle egg onto a plate.
For the Bearnaise sauce:
(Bearnaise sauce is very similar to the more common hollandaize sauce, and is often made over a double boiler. It's very easy to break the sauce this way, and have to start over from scratch. I find that the method below (whisking by hand, or if you're making a larger amount using a blender while drizzling in the butter) is much easier to master.)
In a small sauce pan, make a 'Bearnaise' reduction by combining the wine, vinegar, tarragon, and shallot. Let cook over medium-low until reduced by half (it's a small amount to begin with, so there should only be about 1 TBSP remaining). Remove from heat.
Separate egg yolk into a bowl. Get the Bearnaise reduction and melted butter ready, and begin whisking the yolk vigorously. Drizzle in the Bearnaise reduction, keep whisking, and slowly drizzle in the butter. Whisk, whisk, whisk!
Add the nutmeg, salt and pepper to taste, and set aside.
Can be VERY CAREFULLY re-warmed over a double boiler on low heat, whisking continuously.
For the rest:
In a pan, melt 1 TBSP butter over medium heat. Add the mushrooms and garlic, and saute until browned and wilted. Add another TBSP butter, and press baguette slices down into the pan. Let cook until lightly toasted.
To serve, place baguette slices onto a plate, top with mushrooms, then eggs, then drizzle with Bearnaise or hollandaise sauce.
_______________________________________________________________
Hard-boiled Quails Eggs
(Serves two)
4 quails eggs
Water
Salt – I used this white truffle salt, but plain is fine
Method:
Place quail eggs into the bottom of a small pot, and cover by at least an inch with cool tap water. Place the pot over high heat and bring the water to a boil. As soon as the water is rolling, cover with the lid and remove from the heat. Let sit 5 minutes (I suggest setting a timer) and then gently transfer the eggs to a bowl of cold water. Let cool completely before peeling.
Peel, and serve with salt.
___________________________________________________
Deviled Quail Eggs and Fennel Salmon Salad
(Serves two)
4 Quails eggs, hard-boiled (as per the recipe above)
1 tsp. mayonnaise
1/8th tsp. or less mustard powder
Salt and pepper to taste (I omitted the salt because of the saltiness of the caviar)
Paprika to garnish
Salmon roe or other caviar (optional)
1 fennel root, sliced thin
1 oz. smoked salmon
Fennel sprigs for garnish
Method:
Peel eggs and slice in half lengthwise. Gently remove the yolks into a bowl, and mash with mayo, mustard powder, salt and pepper.
Using a small spoon, dollop yolk mixture back into the egg-white halves. Or, scoop yolk mixture into a zip top bag, snip the corner, and pipe into the egg whites.
Sprinkle paprika over the tops (this is optional, but is what makes deviled eggs 'deviled'). Garnish with salmon roe.
Thinly slice fennel root, and slice or tear salmon into small pieces. Toss together, and top with deviled quail eggs.
___________________________________________________________
Pasta Carbonara with Pan Seared Pancetta
(Serves two)
8 oz. pasta (spaghetti, linguini, etc.)
2 oz. pancetta or proscuitto
2 quail eggs (or 1 regular)
1/4 cup manchego cheese, finely grated, plus more for topping (or parmesan, or pecorino if you want it sharper)
1/2 tsp. olive oil
Salt and fresh cracked black pepper.
Method:
(Pasta carbonara is traditionally, and is here, made with raw eggs. The eggs are added directly to the hot pasta, which warms them slightly but does not cook them. If raw eggs are a concern for you, they can be omitted and replaced with 1-2 TBSP room temperature butter, melted into the hot pasta.)
Bring to a boil a pot of well salted water, and cook pasta until al-dente. Drain, set into a bowl, and toss with 1/2 TBSP olive oil.
While water is coming to a boil, season pancetta with fresh cracked black pepper and add it to a skillet over medium-high heat. Saute until crispy, as you would bacon – flipping halfway through. Remove to a plate lined with paper towels to drain.
Crumble pancetta into the freshly cooked pasta, add the cheese, and toss to combine. Make a small nest in the center of the bowl, and crack the eggs into it. Quickly stir pasta until the eggs are thoroughly incorporated, and serve immediately with additional cheese if desired.
__________________________________________________________