In January I shared 31 Days Of Healthy Recipes to kick-start the New Year. Now that January is over, here are 10 More Healthy Recipes to keep you on track and feeling good. These are all simple, delicious meals I make again and again. Read on, or jump straight into the round-up HERE.
January is over, and I'm looking around wondering where the days went. For me, it was a flurry of cook / photograph / write / repeat. Suddenly, it was over. Huh? It's February already? How did this happen? When was the last time I took a shower? (Don't answer that.)
As the year goes on, I know I'm going to be making and sharing some indulgent, heartier dishes here on the blog. I'm of the opinion that these foods are a healthy part of a diet, and therefore, shouldn't be excluded entirely. It's all about balance — lighter foods when our bodies are craving lightness, and heavier ones when we need something more solid.
Before we move straight into those more indulgent foods, though, I thought I'd share a round-up of 10 More Healthy Recipes. These are some of my favorite dishes, ones that I come back to again and again whenever my body is craving something light and nourishing. Mixed in with the rest of my diet, they help keep me on track and feeling good.
If you'd like more healthy recipe ideas but missed the January extravaganza, you can see all 31 Healthy Recipes from January RIGHT HERE. And if you make any of my recipes, be sure to snap a photo and tag me on Facebook or Instagram — I would love to see them!
— 10 More Healthy Recipes —
These are a sweet potato lovers dream breakfast. Hot baked sweet potato filled with an egg, and topped off with just a little bit of crumbled bacon. And don't forget a squeeze of sriracha!
(Gluten free, paleo, can be made vegetarian. Get the recipe HERE.)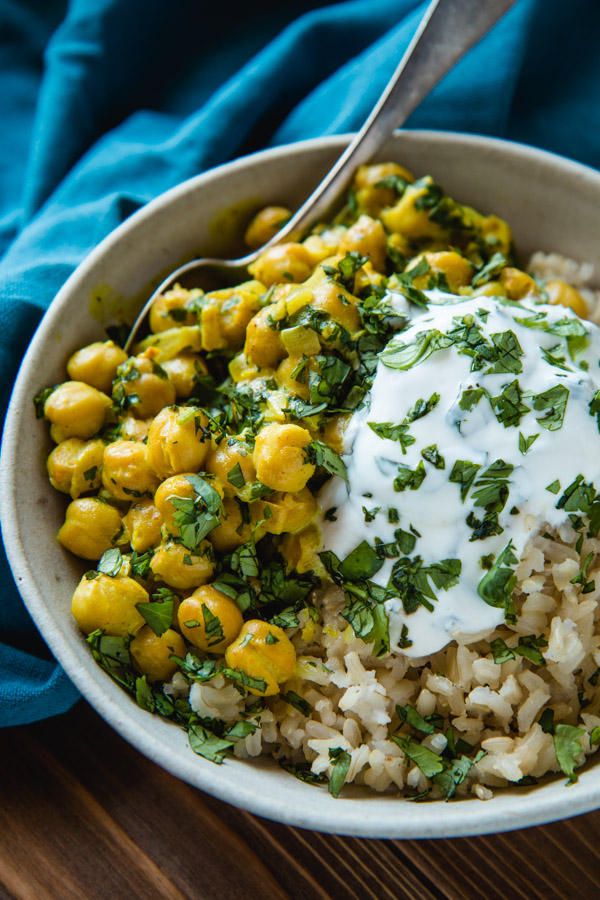 This Vegetarian Chickpea Curry is one of those meals I ALWAYS have the ingredients for. All you need are a couple cans of chickpeas, a can of coconut milk, some spices, and some rice. I like to serve mine with a yogurt-mint sauce, but to be honest, I still make this dish when I don't have those things around. It's a twenty minute meal that always makes me feel nourished and satisfied.
(Gluten free, vegetarian, can be made vegan by swapping the yogurt for your favorite substitute. Get the recipe HERE.)
My Husband and I first tasted this porridge on our honeymoon, at a little restaurant along the coast of Oregon. You wouldn't think a bowl of porridge would be anything amazing, but from my first bite I knew I needed to figure out how to make it at home. Now I keep a tub of amaranth, quinoa, and polenta already mixed up in my pantry so I can make a batch any time.
(Gluten free, easily made vegan. Get the recipe HERE.)
You guys know that in the summer, I basically stop cooking. We don't have air conditioning in our house, and there's usually a week or two when the Hubs and I just lie around under ceiling fans eating bowls of ice cream and salad for every meal. (Um. Balance?) Last year I started making this refreshing cucumber salad with a sweet and tangy Asian dressing, and now I crave it whenever it's too hot to cook.
(Gluten free, paleo, easily made vegan. Get the recipe HERE.)
This right here is the only stuffed pepper recipe I crave. I love the idea of stuffed peppers, but so often the reality ends up being a bland, watery mess. These Chorizo and Black Bean Stuffed Poblano Peppers are a whole 'nother thing. They're full of flavor from the spicy chorizo, the warm, mellow heat of the poblano peppers themselves, and pops of sweetness from the corn. You can eat them just as they are for a low-carb meal, or serve them with a side of brown rice.
(Gluten free, paleo. Get the recipe HERE.)
These Chocolate Truffle Energy Bites are a fun, slightly more elegant take on date nut balls. They're lightly sweet, and full of healthy fats. Rolling them in a variety of coatings gives you a ton of flavor options, plus, they're so much fun to make!
(Gluten free, vegan, paleo, easily made raw. Get the recipe HERE.)
People tell me all the time that they hate lentils. And I'm like… what lentils have you bean eating? So now I'm on a mission to show people how amazing lentils can be, and I always start with this lentil soup. Just a little bit of bacon adds richness and flavor, without making the soup too heavy. If you want to keep the soup vegetarian or vegan, you can leave it out and add a dash of smoked paprika instead, for just a hint of smokiness. Either way, this soup is a winner.
(Gluten free, easily made vegan. Get the recipe HERE.)
For the longest time, the only way I would prepare brussels sprouts was roasting them in the oven. (They're amazing that way, and I still make them often.) But now, I mix it up by making this raw brussels sprout slaw. It was inspired by a side I got at a restaurant once, and I kept plying the waiter for the ingredient list. My version turned out even better than I'd hoped, and now I make it every winter. The light tangy vinaigrette mixed with the sweet cherries is addictive!
(Gluten free, raw, easily made vegan. Get the recipe HERE.)
It doesn't get much more simple or cozy than this chili. Inspired by the vegetarian three bean chili at the Whole Foods hot bar (which is like, seven dollars a serving) this recipe makes a giant pot of chili for cheap, and it's ready to eat in about an hour.
(Gluten free, vegetarian, easily made vegan. Get the recipe HERE.)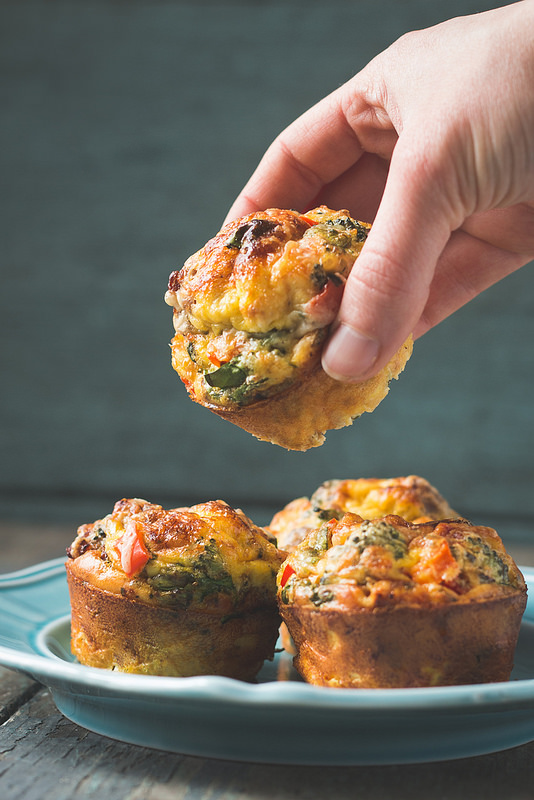 The most popular recipe on my blog, and with good reason. These mini quiches (aka egg muffins, aka breakfast cups) are one of the easiest savory breakfast recipes I know. They're quick to make, versatile (use any veggies, meats, or cheeses you want), and make great leftovers. I like to make a batch on the weekend and keep extras in the fridge, but readers have said they freeze well, too. It's hard to beat that kind of convenience!
(Gluten free, paleo, can be made vegetarian.Get the recipe HERE.)
Want more healthy recipes? Let me know in the comments below!