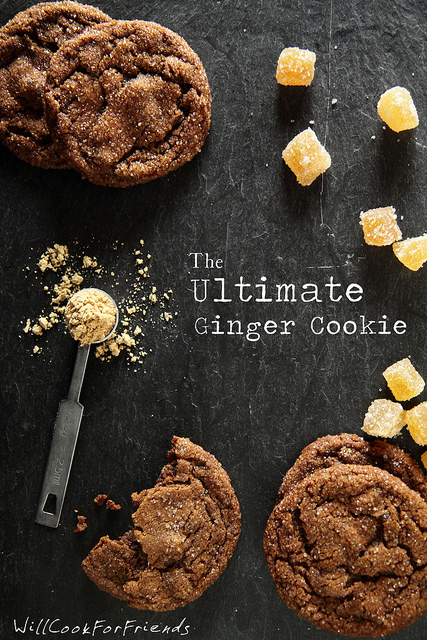 Triple Ginger Cookies – easily made vegan – recipe in post
Ginger and I, we go way back… we used to talk about forever, sitting under the stars like it was just the two of us, like nothing else mattered, like we could live together under the blanket of sky and never wake up…  
But Ginger, see, she couldn't live like that. She had this fire inside her, this heat. This spice for life that had to be lived, this taste for adventure… and where she went, I followed.
These are no ordinary ginger cookies… they aren't for decorating candy houses, or spreading with icing… They're for stashing away in that secret place at the back of the cupboards where no one else can find them, so you can steal them away in secret. They're for sneaking into your pockets as you leave the house for work in the morning, to savor with your tea or coffee. They're for slipping under the table to your closest ginger-loving friends like some kind of hushed drug deal, lest the secret of their goodness get out. Most of all, they are for the lovers of spice. What ginger beer is to ginger ale, these cookies are to your standard gingerbread – stronger, darker, and with a touch of heat.
Yes, these cookies are bold – gutsy, even – with a cracked and slightly crisp outside and perfectly rich, chewy interior. Studded throughout with candied ginger, and balanced by dark flowing molasses… I can truly say these are the best ginger cookies I've ever had.
Sorry, Santa, but Mama ate all the cookie this year.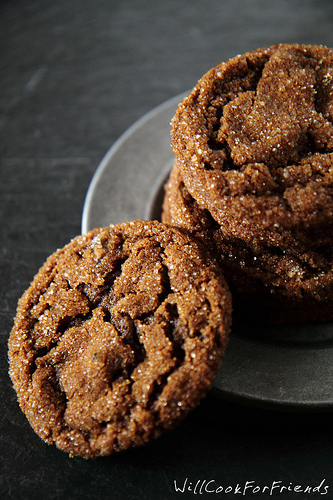 The texture of these is almost as sublime as the flavor (if you're looking for cakey, you've come to the wrong place). The crystallized ginger and molasses form a kind of gooey pact within each cookie, and become perfectly chewy as they cool. Once set, the crust becomes every so slightly crispy in contrast to the middle, and, if you like, can be made even crunchier with a little extra bake time.
Triple Ginger Crinkles – The Ultimate Ginger Cookies
Makes about 20 cookies – easily made vegan

1 1/2 cups (185g.) all-purpose flour
1 1/2 tsp. baking soda
2 tsp. ground ginger
1 tsp ground cinnamon
1/4 tsp. ground nutmeg
1/4 tsp. ground allspice
1/8th tsp. ground cloves
1/8th tsp. sea salt
3/4 cup (about 120g.) crystallized ginger, chopped fine*
1 stick (4oz.) unsalted butter, softened (can be replaced with dairy-free margarine)
1/2 cup dark brown sugar, packed
1/2 cup unsulfured molasses
2 tsp. freshly grated ginger*
1/4-1/2 cup granulated sugar, for rolling
* Crystallized ginger can be chilled in the freezer to make chopping easier. Fresh ginger can be stored in the freezer for easier peeling and grating.

Method
1.    In a bowl, sift together the flour, baking soda, spices, and salt. Toss in the chopped crystallized ginger, breaking up any clumps with your finger tips.
2.    In a large bowl, or the bowl of your stand mixer, cream together the butter, brown sugar, and fresh ginger. Pour in the molasses and beat well.
3.   Mix in the dry ingredients until just combined (if necessary, remove the beaters and fold the dough with a rubber spatula instead, until all of the flour is just incorporated). The mixture should be thick and somewhat sticky. Turn the dough out onto a sheet of plastic wrap, fold the plastic over itself, and pat into a 1 inch thick disc. Wrap it up and refrigerate until firm (at least 1-2 hours, or up to a few days).
4.   Tear or break the dough into about 20 equal chunks, and roll each into a ball between your palms. Roll each ball in granulated sugar, and return to the fridge to keep cool. (Rolled cookies can be stored in the fridge, or frozen in an airtight container, for future baking).
5. Preheat oven to 325f.. Place the chilled balls of dough onto a parchment or silicone lined baking sheet, spacing them at least 1.5 inches apart. Bake on the middle rack for 10-12 minutes, or until the surface begins to crack – for a crispier cookie, bake a few minutes longer. Let the cookies cool 3-4 minutes before transferring to a wire rack. Once completely cool, cookies can be stored in a baggie or airtight container for several days, or frozen… but trust me, they won't last that long.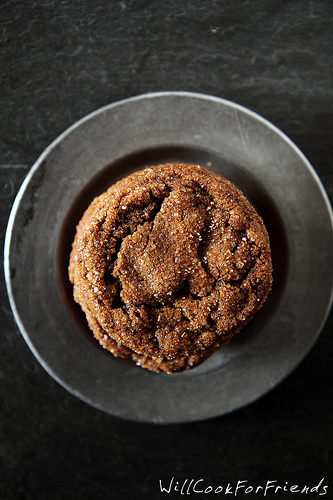 There you have it – the recipe is out. To everyone I shared these with, you can stop hounding me now. My work here is done.