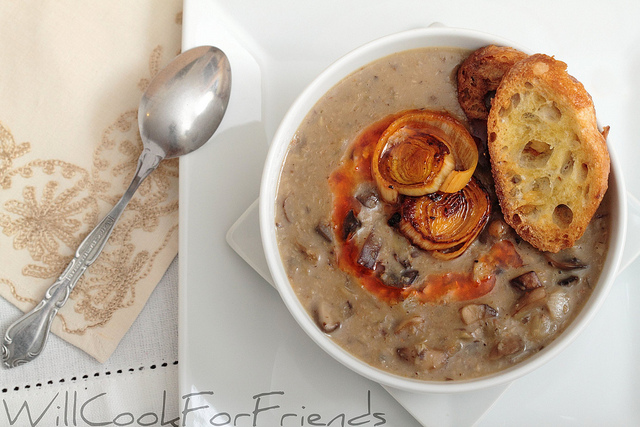 (Mushroom soup garnished with chili oil seared leaks and roasted garlic crostini – recipes in post)
This soup was the canvas for a perfect evening.
I realize that 'Cream of Mushroom Soup' conjures images of Campbell's cans and green bean casseroles, but I beg you to look beyond the gelatinous gloop you're familiar with. Although delicious in casseroles, they are by no means the extent of this soup's range. And, while I've had decent cream of mushroom from a can, I've always known its potential was greater.
For the past several days I've been really feeling the cold (though I guess that's to be expected now that it's December!) – walking dogs first in the wind and rain, then in the snow, and finally in the sunshine again. With winter weather bogging me down, and the heft of all the holiday food, it was time for something warm, comforting, and a little bit lighter. The perfect time to try my hand at what I knew could be, with fresh ingredients and proper preparating, one of my all-time favorites.
First, I had to find some mushrooms. While many recipes just call for white button or Cremini, I wanted to go a step further and make a stock, using dried mushrooms to boost the flavor.
I'm lucky enough to have a local market nearby, where I found a huge bag of mixed mushrooms, from Shiitake and Porcini to Oyster, Chanterelle, Morel, and more. While dried mushrooms can be expensive to buy per the ounce, I was fortunate to find a whole pound for nearly half the unit price. And, if stored in a cool dry place, they won't go bad any time soon – so I can comfort my aching wallet by telling myself it's an investment in the future! On top of the dried mushrooms, I also scored lots of fresh organic button, Cremini, and locally grown Shiitake.
While having all sorts of fancy mushrooms is a plus, it's by no means necessary for this soup. One of the cheapest and easiest to find of the dried mushrooms is Shiitake, which will do just fine for the stock and soup. As far as fresh go, any combination of button, Cremini, Shiitake, or Baby Bell's will work.
Already loving the thought of a warm and earthy meal, I realized I would also be needing a side to bring it all together. Beets were my first clear choice, also being of an earthy and wholesome variety, and I rolled with that idea as I wandered through the grocery store until I came up with the following beet root salad with cranberry-orange balsamic vinaigrette. I garnished the whole thing with dried cranberries and walnuts, for a delicious and festive touch.

(Beet root salad with cranberry-orange balsamic vinaigrette and topped with walnuts and dried cranberries – recipe in post)
I absolutely love the combination of a good vinaigrette, walnuts, and dried fruit on a salad. The Boyfriend (who generally opts out for salad dressings) agreed by helping himself to seconds.
For a final touch, I knew there had to be bread with the meal. One of my favorite ways to eat soup is with a big chunk of baguette, torn right off the loaf to sop up the goodness. I thought I'd amp it up a little this time by slicing the crusty bread on the diagonal and brushing it with a mix of roasted garlic and olive oil, producing a not-overly-garlicy, but immensely flavorful, crostini. I sliced them thinly for a crunchy, crouton like result, but making them thicker would give a lovely combination of the crunchy exterior and the soft, warm interior.

(To cut the smoothness of the soup's flavor, I added a drizzle of chili oil, which I also used to sear a thinly sliced leak stalk for garnish)
The Boyfriend, not being as much of a mushroom lover as I, chose to have his over a bed of wild rice (not a bad choice). He emphasized his opinion of the soup when he took most of the leftovers for lunch the next day.
I'd been craving this soup all week – thinking about what I wanted to add, how I wanted to prepare it, and imagining all the possibilities. Finally sinking into a chair to enjoy a bowl full was like having closure to all my anticipation. I'm not sure I've ever enjoyed a single meal more than this, simply because it fulfilled so many things I'd been wanting.
We topped off the meal with a glass of wine and some chocolates, for a truly decadent evening.
*Raises glass* – to life!
_________________________________________
Mushroom Stock
(Makes about 5-6 cups)
1 large onion – roughly sliced
4 cloves garlic – crushed with the flat of a knife
1 leak top – washed and chopped
2-3 carrots – roughly chopped
1.5 oz. dried mushrooms, Shiitake, Porcini, or a mix
1/2 lb. mushrooms, white button, Cremini, or a mix – sliced
1 tsp. sea salt
1/2 tsp. whole peppercorns
2-3 sprigs fresh thyme
2-3 sprigs fresh marjoram or oregano
2-3 fresh sage leaves
2 bay leaves
1 handful fresh parsley
10 Cups water
Method
In a large stock pot, heat 1 cup water and add onion, garlic, and carrots. Give them a stir and cook on high for about 10 minutes.
Add all other ingredients, pour in the additional 9 cups water, and bring to a boil. Reduce heat to medium and simmer, uncovered, for 1 1/2 – 2 hours, stirring occasionally.
Once reduced to the desired potency, strain through a fine mesh sieve, pressing veggies with the back of a spoon to extract as much liquid as possible.
Store in an airtight container in the fridge for up to a month, or freeze for as much as a year or more.
___________________________________
Cream of Mushroom Soup
(I didn't measure, but would guess this made about 10 cups, give or take)
3 TBSP butter (or olive oil)
1 large onion – fine to medium chop
3-4 cloves garlic – minced
1 oz. dried mushrooms, Shiitake, Porcini, or mixed – rehydrated in 1 cup boiling water
1.5 lbs fresh mushrooms, button, Cremini, Shiitake, or mixed – roughly sliced or chopped into chunks
1/4 cup flour
3-4 cups mushroom stock (or other vegetable stock – optionally can replace up to 1 cup with white wine)
1/2 cup milk or cream (or milk substitute – soy, almond, rice, etc.)
Sea salt and fresh cracked black pepper to taste
For chili-oil seared leaks:
1 Leak stalk – thoroughly washed and sliced thinly
3 TBSP olive oil
2-3 TBSP chili oil, Sriracha, or your favorite hot sauce
Salt and fresh cracked pepper
Method:
In a bowl, pour 1 cup boiling water over dried mushrooms and set aside to rehydrate. Prep other ingredients – gently wipe fresh mushrooms clean with a damp cloth or paper towel, remove any woody stems, and slice/chop mushrooms and onion.
In a large heavy bottom pot over medium heat, combine butter (or oil), onion, and garlic. Let cook 7-10 minutes, stirring once or twice.
Add fresh mushrooms and stir to combine. Let cook another 7-10 minutes. Season with a little salt to help draw out some of the juices.
While the mushrooms cook, pour dried mushrooms along with their soaking liquid into the bowl of your food processor. Blend to a paste, as smooth or chunky as you like, then add to the pot. (This step can be replaced with running your knife through the rehydrated mushrooms a few times before adding them to the soup, but I find they can sometimes be a little chewy if not chopped fine enough). Add flour, and cook for another 4-5 minutes, stirring frequently.
Increase heat to high, and add the stock and white wine, if using, to the pot. Stir thoroughly, then bring to a boil to thicken.
Reduce heat to low and pour in the milk, cream, or milk substitute. Season with salt and fresh black pepper to taste, and serve
For the leaks, slice thinly and wash, then pat thoroughly dry with paper towel.
Heat oil and hot sauce/chili oil over medium to medium-high heat in a skillet.
Sprinkle leaks with salt and pepper, then place into the pan and sear for 2-3 minutes per side.
Garnish soup with a drizzle of oil from the pan, and 2-3 rounds of leak.
____________________________________
Roasted Garlic Crostini
1 head garlic
4-5 TBSP olive oil
1/2 French baguette (or other rustic/crusty bread)
Method:
Preheat oven to 400f.
Peal away outer skin of the garlic, leaving all the cloves intact. Slice the top 1/4 inch or so off the bulb to expose the cloves, then wrap in a ball of aluminum foil. Open the top of the foil and drizzle 1-2 tsp. olive oil on top of the bulb. Reseal the foil and set on a baking tray or nestle into a muffin tin, then bake for 40-45 minutes until fragrant and golden brown inside the foil. Let cool.
Once garlic is cool enough to handle, squeeze bulb from the bottom up like a tube of toothpaste to press all the cloves out into a dish. Mash cloves with a fork to create a paste, and add the rest of the olive oil. Mix around and let sit, refrigerated for a few hours or overnight for maximum flavor.
Preheat oven to 375f.
Slice baguette as thick or thin as you like, and brush each slice with garlic/olive oil mixture. Lay slices on a baking sheet and bake on the middle rack for 7-10 minutes, rotating half way through. Serve hot from the oven, or allow to cool completely before storing in a zip-top baggie.
__________________________________________
Beet Root Salad with Cranberry-Orange Balsamic Vinaigrette
(Makes about 3/4 – 1 cup dressing)
For the salad:
1 head romaine lettuce – sliced/chopped
1 bunch red or green leaf lettuce – sliced/chopped
3 beets – boiled and sliced
1/2 cup walnuts
1/4-1/2 cup dried cranberries or cherries
Dressing to taste
For the dressing:
1 Orange – juiced
1/2 cup heaping of fresh cranberries (could be substituted with raspberries)
1 tsp. sugar
1/4 cup good quality balsamic vinegar
1/4 cup good quality olive oil
Method:
In a small sauce pan over medium-low heat, combine cranberries and orange juice. Cook until berries have popped and are softened, maybe 5-10 minutes. with the back of a spoon, mash cranberries against the side of the pan into a paste. Add sugar and balsamic vinegar, stir to combine, and remove from heat.
Pour through a fine mesh sieve, pressing with the back of a spoon to extract as much liquid as possible. Discard the solids.
To the cranberry balsamic mixture, drizzle in the olive oil while whisking continuously.
Set dressing aside to cool, and prep the rest of the salad ingredients.
Serve.
__________________________________________
An evening to remember:
1 Bowl of soup, with bread and garnish
1 Plate of salad, lightly dressed
1 Tall glass of wine, poured
1 2 3 Pieces chocolate, slowly melting
and 1 Handsome man, complimenting the meal
Enjoy!