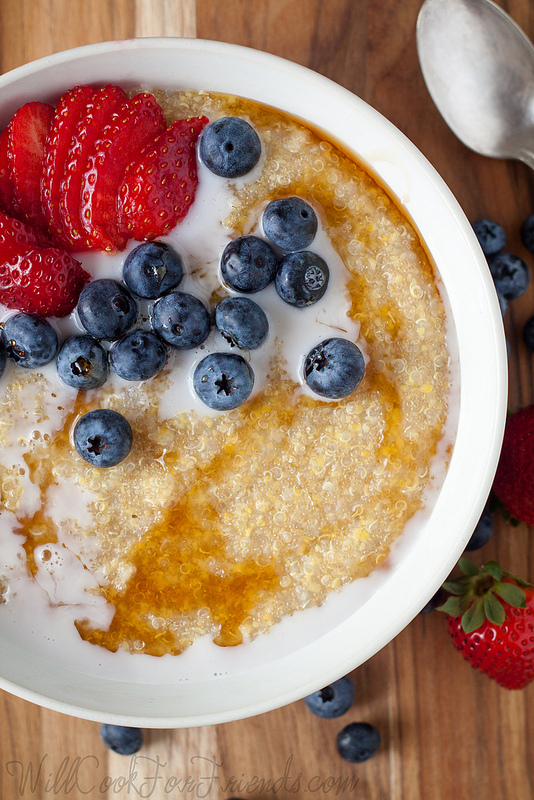 What is it about seeds and whole grains that makes me feel so good?
Somehow I always forget just how incredible it feels to start my morning with a bowl of whole grains. They pack such a huge hit of nutrition and energy, without weighing you down. They also hit the spot. You know, that spot in your stomach that certain foods just hit, and all of a sudden you feel all full and satisfied and happy?
It's like the food g-spot. Err… something like that.
While T-Hubs and I were away on our honeymoon, we fell madly in love with a little restaurant called The Green Salmon. I already raved on and on about them, so I won't go into all the details about how great they were. One of the things on their menu stood out above the others, though, and bears a little raving about itself: a simple bowl of "whole grain" hot cereal consisting of slow-cooked amaranth, quinoa, and polenta, topped with a drizzle of maple syrup and fresh berries.
It sounds simple, I know, and for a moment I almost considered ordering something else because of all the amazing options to choose from… but I am so glad I didn't, because that bowl of porridge hit the spot. 
From the first bite, I knew I had to figure out how to make it myself.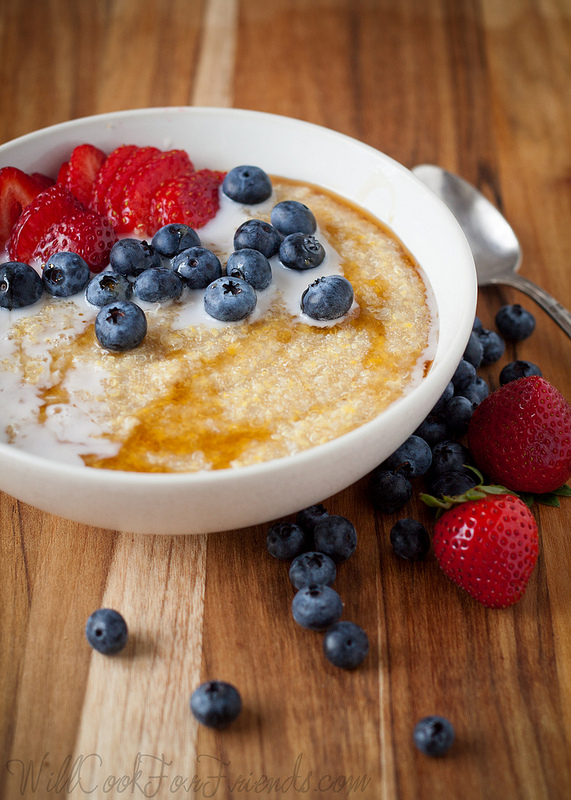 Mm — it's like a little piece of our vacation, here at home! And the best part is, it's easy to make a big batch and reheat the leftovers all week long. I'm not gonna lie, I could eat this every single day and never get tired of it.
Before we go on to the recipe, let's take a quick minute to appreciate just how awesome these "grains" are.
Amaranth and quinoa are technically seeds, not grains, but because they are used like grains they have been given the honorary title "pseudo-grains". My mother always told me, knowledge is knowing a tomato is a fruit, but wisdom is not putting a tomato in a fruit salad. Similarly, knowledge is knowing that amaranth and quinoa are seeds, but wisdom is not really giving a crap and calling your porridge "whole grain" anyway. 'Kay?
You're probably already familiar with quinoa, which has been in the spotlight as a nutritional "superfood" for quite a while now because of its high protein and calcium content, but it seems like amaranth has managed to fly a little more under the radar.
Amaranth seeds contains nearly the same amount of protein as quinoa, including a couple essential amino acids which are lacking in most other grains, not to mention almost three times the calcium. They're also high in fiber, packed full of vitamins and minerals, easy to digest, and have a wide range of uses (from porridge, to popped like popcorn). The plant also happens to be super easy to grow — in fact, it's considered a weed by many — which has me wondering why we aren't solving the world's hunger with these incredible little seeds!
Combine all that with some nutrient-rich polenta (which is a grain, just for the record), and you have yourself a bowl of complete protein, high fiber, vitamin-packed awesomeness. Oh, and it's gluten-free and vegan. And delicious. Did I mention the delicious?
Amaranth, Quinoa, and Polenta Porridge
(makes about 3 cups, or 2-3 big servings)
1/3rd cup dry amaranth seeds
1/3rd cup dry quinoa
1/3rd cup dry polenta (or coarse grits)
3 1/2 cups water
Milk or non-dairy substitute, to taste (optional)
Cinnamon, maple syrup, fruit/berries, nuts, seeds, or other toppings, as desired
Method
Add the amaranth, quinoa, and polenta to a medium saucepan along with all of the water. Bring to a boil, then reduce the heat to low and simmer, uncovered, for 16-18 minutes, or until most of the water has been absorbed and the grains are tender to chew. Stir occasionally while cooking, scraping the bottom of the pot to keep the seeds from sticking. Be careful not to leave them on the stove too long, or else they may weld themselves to the bottom of the pan.
Remove from the heat, and serve immediately. Top with a little milk or non-dairy substitute, along with any other toppings you desire (I like mine with fresh berries and maple syrup, but the possibilities are endless).
Enjoy!
Leftovers can be stored in an airtight container in the fridge and reheated on the stove or in the microwave with a splash more water or milk to loosen them up.
(There are plenty of variations you could try with this, such as adding chopped apples and spices at the beginning of cooking, or pumpkin puree and pumpkin pie spice for a fall twist. Topped with walnuts and pecans, and a drizzle of maple syrup — mmm! Feel free to experiment with this recipe using whatever ingredients you like!)