(Seaweed Salad)
The words 'Seaweed Salad' usually conjur images of vibrant, neon green, angel-hair threads of seaweed, tangled with a light sesame dressing and served at every Japanese restaurant. I love this salad. I crave this salad. So I set out to make this salad.
I started my journey with a whirlwind trip through Asia. In one afternoon, I visited three different Asian markets. In each, I struggled to climb the language barrier to ask for the seaweed I wanted. The response was always the same – first, they led me to the dried seaweeds. These are the most commonly available seaweeds, like kelp, Wakame, and sheets of Nori. While Wakame can be rehydrated and turned into a salad, it isn't in the same ballpark as the bright, fresh seaweed I was in search of.
"Seaweed salad," I told them. Ah! The words sparked familiarity, and I was led to the refrigerated section and handed a small container of pre-made, ready to eat salad.
"Yes," I said. "This – but I want to make this." And time after time, each Asian grocer told me it couldn't be done. One tried to explain they didn't carry it, didn't know where I would be able to get it… other's simply shook their heads and laughed. I couldn't understand – if they sold the salad, why not the ingredients for it?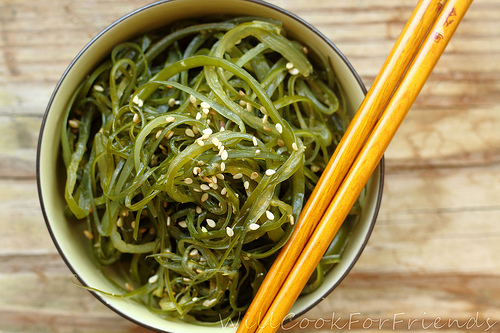 (This is also sometimes called a 'Chuka' salad, a term used in Japanese cuisine for foods which came from, or supposedly originated, in China.)
So I went home and did some research. What I learned is, there are a lot of different types of seaweed! With so many varieties, and different names for each depending on who you ask, it's no wonder there's so much confusion. The lack of labeling (in English) and sometimes mislabeling, doesn't help, either. So here's my understanding:
Wakame – is most commonly sold dried. It is more leafy than stringy, and can be rehydrated in cold water for several minutes, resulting in a tender, deep green, and mildly flavored seaweed. It is often used in soups, such as miso, and salads either on its own or in combination with other vegetables. Note that some Japanese seaweed salads are labeled as 'Hiyasha Wakame'. It is my understanding that this refers to fresh (not dried) Wakame stems (not leaves).
Ogonori – sometimes called sea moss, is the source of Agar. I noticed in researching seaweed salads that many say they contain agar, which led me to believe that this was the seaweed I was looking for. It is common along the coast of Japan, as well as Hawaii and the Caribbean. It is always served fresh and cold, such as in salads, but since I couldn't find any I was unable to verify its shape or texture.
Tosaka – tosaka nori comes in three different colors: red (aka-tosaka), green (ao-tosaka), and white (shiro-tosaka). According to one Japanese restaurant, it is also served fresh and cold as a salad. It is said to be sold packed in salt in the freezer section, but once again, I was unable to find any.
Armed with a (slightly) better grasp of what I was looking for, I returned to my quest and visited two more Asian markets. I found several different kinds of fresh seaweed, packed in salt and refrigerated, but none seemed to be what I was looking for.
Then, at last, I found what I needed – what I really, truly was looking for – someone who spoke English! I quickly explained what I wanted, and was told the biggest piece of information I would never have learnt on my own: Seaweed salads are pre-made. They are shipped that way, frozen, to Asian restaurants and grocers from companies in Japan and China. The specific ingredients to make them are not sold separately, at least not around here.
You can imagine, after so much time spent searching, my disappointment. After speaking with the store owner about the different frozen, salt-packed seaweeds they did carry, I decided to try "Salted Seaweed Stems" as the closest alternative.
(Salted Seaweed Stems)
These are fresh, long tendrils of noodle-like seaweed. They are a bright green color, and taste of the ocean. To prepare, they must be thoroughly rinsed and soaked to remove the salt. After soaking for several hours, I found they were still quite tough to chew – I would recommend soaking in hot or boiling water, to achieve a softer texture.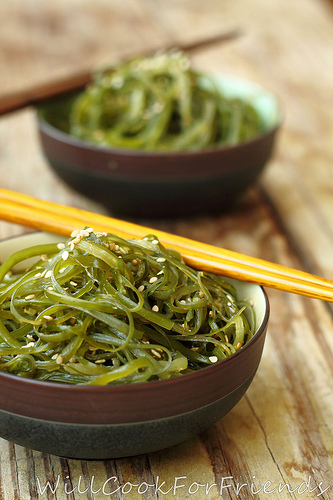 These are much thicker, tougher, and chewier than that in traditional seaweed salads. I also found that because the salad wasn't as thread-like, it held much less of the dressing, making it bland. Not a terrible attempt, but by no means what I had set out to accomplish. In the future, I will probably stick to rehydrated Wakame when the seaweed-at-home cravings hit.
My biggest disappointment in all of this is learning that the dish I love is not the doing of any of my favorite restaurants, but a supplier (like this one) half-way around the world. But at least I can get them; my favorite part of a bento box, or a side to a plate of sushi. The little tangle of greens I save for the end, the best for last…
If nothing else, I made a lot of discoveries about Asian cuisine, including making some connections at my local markets. I also concocted a pretty amazing dressing for my salad, which I intend to find ways to repurpose, so stay tuned for that!
What's your favorite way to eat seaweed? Let me know in the comments!
__________
6/21/12
*Update* – after a little more research, I can be relatively certain that the seaweed used is a form of fresh wakame. Japanese seaweed salads are made with Hiyashi Wakame, and are sometimes referred to as Goma Wakame (or, sesame seaweed).
There are many different suppliers of seaweed salads, including some who customize orders for their clients, which explains why different restaurants carry different salads. Some suppliers use food colorings and preservatives, while others do not.
Interestingly, almost all manufacturer's are based out of China, lending credence to the term 'Chuka Wakame Salad', denoting it as a dish originating from China, but incorporating Japanese flavors.