Who doesn't love vanilla extract? If you've ever done any baking, you know it finds its way into nearly every recipe. Even if it's just a little, a bit of vanilla can add that extra something to make a dessert special. Even chocolate can be enhanced by a few drops of the stuff!
It's no surprise, then, that I go through vanilla like there's no tomorrow. It can be expensive to keep stocked up on the good stuff, though, so instead I've been trying to keep a supply going of my own. Not only is it cheaper, but the flavor is worlds apart from your average extract.
Making your own vanilla extract is one of the easiest things you can do, and it can save you loads of money verses the stuff sold in stores. I estimated that a quart of my homemade extract cost me around 30 bucks to make (that's about $7.50 per 8oz bottle, as compared to the $10-20 you might expect to pay at the store). And that includes the fancy little jars and labels — to make things even cheaper, you can skip the bottles and just store your extract in mason jars, or old (clean) wine bottles.
Plus, homemade extract is great for gifting. If you start a batch at the beginning of the year, by December you've got gourmet stocking stuffers that are sure to impress. Talk about a no-brainer!
Now, there are a lot of tutorials and DIY's out there on this subject already… but to be honest with you, most of the ones I've seen give some pretty spotty (and often mis-informed) instructions. Don't get me wrong, making your own vanilla extract is easy (exceedingly so!), but the results are only going to be their best if we know a bit about what we're doing first.
Don't be deterred by the lengthiness of this post — it may seem overwhelming at first, but making homemade vanilla extract really is easy. All you need are vanilla beans, vodka (or other liquor), and a little bit of know-how…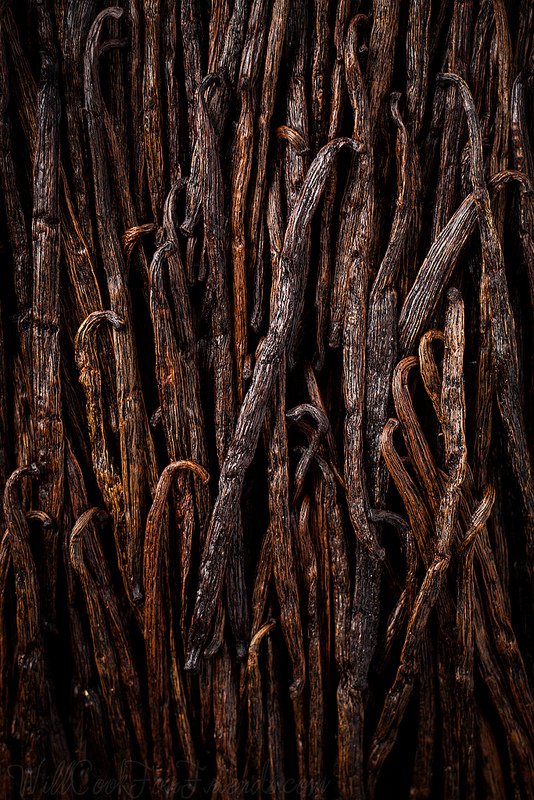 First, let's talk beans — vanilla beans come in many different varieties (the most common ones are Madagascar or Bourbon, but there are also Mexican, Tahitian, Indonesian, Tonga, and more), and each one has it's own unique flavor. Kind of like different types of chocolate, some are darker, or earthier, or more floral than others. If you aren't sure where to begin, I suggest getting a sampler of beans from a site like Beanilla.com or Ebay, and try them out to see what you think. In most of my baking, I like to use Madagascar or Mexican (they are cheaper, and have a richer, bolder flavor). In more delicate recipes, like vanilla ice cream, fresh whipped cream, or white cake, I prefer the light, floral taste of Tahitian vanilla (this is my personal preference, and yours may be different). Once you have a feel for the different varieties, you can even try experimenting with using a mix of beans to achieve a unique flavor profile. This is your extract, after all, and you should make it how you like!
Besides coming in different varieties, vanilla beans also come in different grades. Grade A vanilla beans (also called "gourmet") are what you are most likely to find in little jars in the spice aisle. They are big, plump, and great for splitting open and adding directly to a recipe. Then there are Grade B vanilla beans — these are smaller, and much dryer than Grade A beans. They are also referred to as "extract grade", because the lower water content makes them ideal for flavor extraction. (The average Grade A bean contains about 30-35% moisture, while Grade B's are between 15-25%.) And, because they are typically sold by weight, you'll find you can get a lot more grade B beans for your buck. Score!
You can order Grade B beans from some spice shops, Ebay, or Beanilla.com — I use Beanilla for most of my orders, since they usually have a good price and I know them to be reliable. (Not being paid to say that, just my honest opinion.) They usually have Grade B Madagascar and Mexican beans, but for other Grade B beans, you may have to look on Ebay or elsewhere.
Once you've got your beans, the next thing you'll need is some alcohol.
Homemade extracts are typically made with vodka, because it has a neutral taste, but you could also use bourbon, brandy, rum, or other liquor to bring a bit more flavor to the party. This is entirely up to you. In general, I prefer to make my extracts with vodka, because I can always add other flavors to a recipe if I want to.
According to the FDA, commercial grade vanilla extract need to be at least 35% alcohol content (or 70 proof). Your average bottle of vodka is 40% (or 80 proof), and for extracting at home that will do just fine. Keep in mind there will be some moisture in the vanilla beans that will dilute the percentage slightly. If you really want to be precise, you can dilute your 80 proof vodka by adding 1 TBSP of distilled water per 2 cups of vodka — this will bring your alcohol content to right around 37%, which still leaves a little room for the water content of the beans.
(Another, even cheaper option is to buy a bottle of 95% (190 proof) alcohol, such as Everclear, and dilute with distilled water (about 1 3/4 cup water to 1 cup Everclear) to make about 35% alcohol.)
Now, you may be thinking, isn't a higher alcohol content better? Well, the answer is actually, no. Vanilla beans contain hundreds of flavor compounds, some of which are water soluble, and others alcohol soluble. The primary flavor we taste is a chemical called vanillin, which is mostly water soluble. If the alcohol content is too high, it will actually dilute the vanillin flavor and make your extract weaker, rather than stronger.
When it comes to choosing an alcohol, there's a bit of debate over how much the quality matters. I've heard both sides of the argument — some say better quality vodka produces better extract, while others claim it makes no difference at all, and you shouldn't waste your money. Personally, I go for a cheaper vodka, and all I can say is that the extract I make at home outshines all the others I've tried. One of these days I'll make a couple batches with different alcohols to see if I can tell the difference, but until then I'm happy to save my pennies.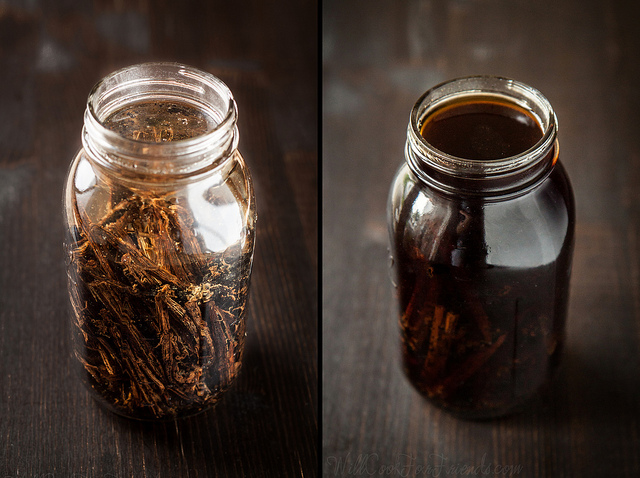 Okay, you've got your beans, you've got your alcohol… now it's time to combine them. This is the part where I find the most incongruity among other how-to sites. A quick search turns up over a dozen results, with instructions ranging from a few vanilla beans in a gallon of vodka, to 3-4 in a cup. Surprisingly, neither of these are anywhere close to the required amount necessary to make an extract.
In order to be called an extract, the FDA states that it must contain a minimum of 13.35 oz. of vanilla beans per gallon. That works out to just shy of 1 oz. of beans per 8 oz. of vodka. If you're using the smaller, extract-grade vanilla beans, that can mean anywhere from 8-16 beans per cup of alcohol! If you're using plumper, Grade A vanilla beans, you will actually have to use more, not less, because of their extra water content. (Remember that commercial extracts are made with beans that have no more than 25% moisture.) Anything less, and you won't have an extract, you'll just have vanilla flavored vodka.
When you're making vanilla extract, it's always better to err on the side of too much vanilla, rather than too little. I suggest using at least 8-10 beans per 8 oz. of vodka, if not more. Keep in mind that vanilla extract comes in many strengths (single fold, double fold, triple fold), and the worst that can happen is you wind up with something a little more powerful than you expected. If your vanilla extract gets stronger than what you're used to, simply use a little less in your recipes, or top off the jar with a bit more vodka every once and a while. Your extract will last longer, and you'll still be saving money as compared to using fewer beans.
The other component necessary to making vanilla extract is time. How long should you let your extract sit before it can be used? As with the number of beans, the answer you get will vary depending on who you ask. In my experience, the extract can be used after just a few months of macerating. However, things start to get good after 6 months, and it will continue to mature well after that. (As it ages, you may even notice it becoming slightly syrupy — this is is when things start to get really good!)
After anywhere between 6-12 months, you can strain the vanilla to remove the beans and seeds. This step is optional, but makes for a nicer presentation if you plan to give your extract as a gift. Whatever you do, don't get rid of the used vanilla bean pods! When dividing my extract into jars, I like to add 1-2 beans to each, so that the flavor can continue to mature. Any extra beans can be layed out to dry on a paper towel, then added to a bin of granulated sugar, which will soak up whatever flavor they have left.
Update: If you aren't planning on gifting your vanilla, you can keep it in the original jar, with the beans, indefinitely. The longer it steeps, the strong and richer the extract will become. (I have one jar that's been steeping for over two years, now, and it's some of the best vanilla I've ever used.) If the extract ever gets stronger than you want (if that's even possible), you can simply use less than called for in a recipe, or you can top off the jar with a bit more vodka every once and a while. If you use enough of the extract that the beans are no longer submerged, I recommend straining the extract, since the exposed beans can, in some cases, promote the growth of mold when not covered by the alcohol. (Note that I've never had this happen, but it's still better safe than sorry.)
Now, there are just a couple more things to consider before we begin. I couldn't resist using clear bottles for these photos, but just like with most other alcohol-based things, vanilla extract is best stored in dark glass bottles and kept in a cool dark place to keep the flavor strong. Brown or green wine bottles work well, or, if you're wanting to make smaller portions to give as gifts, you can find bottles in all different sizes online. I ordered mine from eBottles.com.
While it isn't always necessary, I recommend sterilizing your bottles or jars before using them. This can be done by boiling them in a stock-pot of water for a few minutes, then carefully removing them to a clean towel to dry. This way you won't have to worry about any off-flavors developing over time.
(For those of you interested, I used Avery printable labels for my bottles — of all the sticker labels I've used, these seem to be the best, both for printing and adhering. I've uploaded each of my vanilla label designs onto my flickr page (here), so they can be easily downloaded, then uploaded onto whatever template you want to use.)

Let's get started, shall we?
Homemade Vanilla Extract
To make one cup of vanilla extract, you will need…
1 cup of vodka or other liquor (between 35-40% alcohol)
At least 1 oz. of Grade B vanilla beans (there can be anywhere from 8-16 beans per oz, depending on their size and moisture content. I suggest using a minimum of 8-10 beans per cup of vodka, if not more)
Clean and dry bottles or jars (preferably brown or green glass, with tight fitting lids)
1.   Split your vanilla beans in half lengthwise, and scrape out the seeds (also called the "caviar"), using the back of your knife. (See the photo above.) Removing the seeds is optional, but will give you a stronger extract in a shorter period of time. If time isn't an issue, just split your beans lengthwise, and then cut them in half across the width so that they fit easily into the bottle or jar you are using.
2.   Place all of your cut vanilla beans, along with the seeds (or caviar), into a clean jar. Pour the vodka on top, seal the jar, and give it a good shake. I suggest putting a label on your jars with the date the extract was started, this way you can keep track of how old it is.
3.   Store your vanilla extract in a cool, dark place, and give it a shake every now and then. I keep mine in the stairway to my basement, and try to shake it up whenever I walk past… or whenever I remember to. It's not a biggie if it goes unshaken for a while.
4.   Let your extract mature for at least a few months before using. At this point it will still have a strong alcohol flavor to it, but will work fine in most recipes. The flavor will deepen and mellow the longer your extract ages. After 6 months or so, you can strain your extract if you wish (I like to use a double layer of cheesecloth, rubberbanded to the top of the jar). Don't discard the bean pods, though! I like to add a few beans back to the jar after straining, so the extract continues to develop flavor. The rest can be set out on a paper towel to dry, then added to a bin of sugar to make vanilla sugar.
Remember to continue to store your vanilla in a cool, dark place (such as your basement, pantry, or fridge). The longer it sits, the more the flavors will mature, like a good wine. The best extract I ever made was a jar I forgot about for a little over a year two years. If, over time, your extract becomes stronger than you like, just top off the jar with a bit more vodka.
Now… who wants some extract?