Pumpkin Ravioli with Hazelnut Brown Butter Sauce – recipe in post
"I myself am made entirely of flaws, stitched together with good intentions." – Augusten Burroughs
I am made up of flaws. A compilation of failures and mistakes, and innumerable disappointments. My body is battered from all the leaps I've taken, hoping to fly…
But these scars that I have are mine. They trace the path that's made me who I am. They've gotten me to where I am, and where I am is better than I could have ever hoped or dreamed. For all the moments I can look back on and regret, I can look forward with the confidence that I am better than I was, stronger than I was. I can do this. I can do this. I can do this. No matter the outcome, it all starts with trying.
The other day, I asked The Fiancé, why do you love me? And he told me all of the reasons I care so much for him. At first I thought it was a joke… no, really, be serious… but he was. All those things I hold so highly, I have. All those strengths I wish were mine, I have. And all those flaws I accept in others, I have to accept in me, also.
I am made up of flaws –and I am okay with that.
It seems, sometimes, that I set rather high expectations for myself. I plot, and I plan, and I try with everything I have – and sometimes (often times) I fail. I'm hard on myself. I gave it all I had, how could it have not worked out? But I learn from these experiences, also – what did I do wrong, what could go differently? – and I try, try again.
I've been thinking a lot about this lately, and my goal for this week is to be more forgiving, and give myself more credit for the things I do right. Because sometimes, I do succeed. Sometimes I try, and things turn out exactly as I'd hoped.
"Sometimes the fall kills you. And sometimes, when you fall, you fly." – Neil Gaiman
This ravioli falls into the 'success' category. I've never had a dish quite like it, but once the idea was in my head I knew exactly what I wanted it to be. The transition from my mind's eye to reality was almost effortless, and the plate came together exactly as I'd pictured. The flavors I'd imagined were there, all working together in tandem.
Pasta Making
With all of the pumpkin desserts I've been making, I thought it was about time I feature a recipe that uses this incredible squash in a savory application. This ravioli is now a new favorite of mine – warm with the scent of toasted hazelnuts, the mingling flavors of rosemary and sage; the perfect balance of flavors, all complimenting one another, in harmony. Sweet and savory hand-in-hand.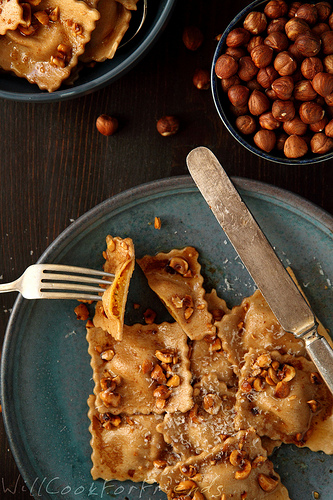 Don't be discouraged by the lengthy instructions – this dish is really quite simple to prepare, there are just a few steps in making your own pasta. To make it extra easy, go ahead and make your ravioli ahead and freeze them until you're ready. Making this dish for just the two of us, I have plenty of extra waiting to be boiled for a quick week-night meal.
Recipe notes: Because this is on the sweeter side of savory, I chose to make the pasta whole wheat, for a little depth of flavor. If you decide to make your pasta entirely with all-purpose flour, keep in mind that it will need less moisture in the dough and will also cook more quickly. 
For the pumpkin filling, I highly recommend using home-made pumpkin puree. It's incredibly easy to make, and will change the flavor considerably. Click here for a how-to on simple pumpkin puree. Alternatively, the pumpkin could be replaced with other pureed squash, like butternut or acorn.
The use of balsamic vinegar in this recipe was inspired by my friend Foodie Stuntman's pumpkin gnocchi (click for recipe). Balsamic and pumpkin pair very well together, indeed!

Pumpkin Ravioli with Hazelnut Brown Butter Sauce
Vegetarian ~ Makes about 4 dozen ravioli

Pasta
2 cups whole wheat flour
2 cups all-purpose flour
1 1/2 tsp. kosher salt (or 3/4 tsp. fine grain sea salt), optional
6 large eggs
5-10 TBSP water, as needed
Filling
1 1/2 cups unsweetened pumpkin puree (make your own, here)
1 cup ricotta cheese
3-4 leaves fresh sage, minced (about 2 tsp.)
1-2 sprigs rosemary, stripped and minced (about 2 tsp.)
1/4 tsp. freshly grated nutmeg
salt and fresh cracked black pepper, to taste
Sauce
1/2 cup raw hazelnuts
8 TBSP (1 stick, or 1/2 cup) unsalted butter
salt and fresh cracked pepper, to taste
1-2 TBSP good quality balsamic vinegar
freshly grated Parmesan Reggiano, for topping
Method

Pasta
In a large bowl, whisk together the flours and salt, if using. Make a well in the center, and crack the eggs into it. Using your fingers, stir the eggs around to break up the yolks. Begin incorporating the flour from the edges of the bowl until the mixture begins to come together and look dry. Add water 1 TBSP at a time, kneading and mixing as you go, until the dough is soft but not sticky. If the dough becomes sticky or loose, add a pinch more flour.
Turn the dough out onto a flour dusted counter top and knead for 8-10 minutes, or until smooth and elastic. If the dough is too dry, add a few drops of water. Once the dough has a fairly smooth surface, shape it into a ball and place it in a lightly floured bowl. Cover with a damp tea towel and let rest for 10-15 minutes.
Make ahead tip: At this point, your pasta is ready to roll. Or, it can be stored in the fridge for up to 24 hours, or wrapped tightly in plastic wrap and frozen. Bring to room temperature before using.
Filling
Meanwhile, make your filling. If your pumpkin puree is particularly wet, place it over medium-low heat, stirring occasionally, until some of the moisture has evaporated.
Mix all ingredients together in a bowl, and season to taste with salt and fresh cracked pepper. Set aside.
To assemble
Divide your dough ball into quarters, and work with one fourth at a time. Keep the rest of your dough covered to prevent it from drying out. Roll your pasta with a pasta machine according to manufacturer's instructions (generally starting at the widest setting, then rolling thinner and thinner) to the thinnest or second-thinnest setting. You want the pasta thin, but not in danger of tearing.
If you're rolling the dough by hand, be prepared to use a lot of elbow grease.The dough will have the tendency to pull back after being rolled out – if it becomes too difficult to work with, let it rest (covered by a damp towel) for 5-10 minutes before continuing.
Once you have a long sheet of pasta, spoon half-teaspoon sized dollops of filling in a row along one side of the sheet, about 1/2-1 inch apart. When it comes to filling ravioli, less is more.
Lightly brush the edges of the pasta, and in between your dollops of filling, with water. Fold the sheet of pasta lengthwise over the fillings, and press down around each one. Be sure to press out any air bubbles, and seal the dough tightly. Cut out your ravioli with a press, pastry cutter, or a pizza wheel. If you'd like you can go around the edges of each with the tines of a fork to help seal the dough.
Make ahead tip: At this point  your ravioli is ready to be cooked and served, or you can toss them in a bit of flour, place in a zip-top bag, and freeze for later.
The Sauce
Preheat the oven to 350f.
Spread the hazelnuts on a baking sheet, and toast in the oven for 8-12 minutes, or until golden and fragrant. Give them a shake or stir every few minutes to keep them from burning.
Dump the hot hazelnuts into the center of a clean dish towel, and bring the edges of the towel up around them. Rub the hazelnuts together inside the towel to remove their dark, bitter skins. Sift the nuts out of the towel, leaving behind the skins, and give them a rough chop. Set aside.
(Update: for a more in-depth tutorial on how to roast and skin hazelnuts, click HERE. Update, 2: I've recently discovered a new method for skinning hazelnuts that is even easier. You can check out the new tutorial, HERE.)
In a pan over medium-low heat, melt the butter. Add the chopped hazelnuts, and cook for 3-5 minutes, stirring occasionally, until the butter turns a rich golden-brown. Be careful not to burn the butter! Immediately turn off the heat once the butter has browned. Season with salt and pepper to taste, and set aside.
Boiling the pasta
Bring a large pot of salted water to a boil.
Drop 8-10 ravioli at a time, and cook for 2-5 minutes, or until al-dente (time will vary depending on how thin your pasta is and the size of your ravioli). Remove finished ravioli with a slotted spoon and drain off any excess water. Repeat with the remaining pasta, then add the ravioli to the pan with the browned butter. Toss to coat, and drizzle lightly with balsamic vinegar. Serve hot with freshly grated Parmesan.