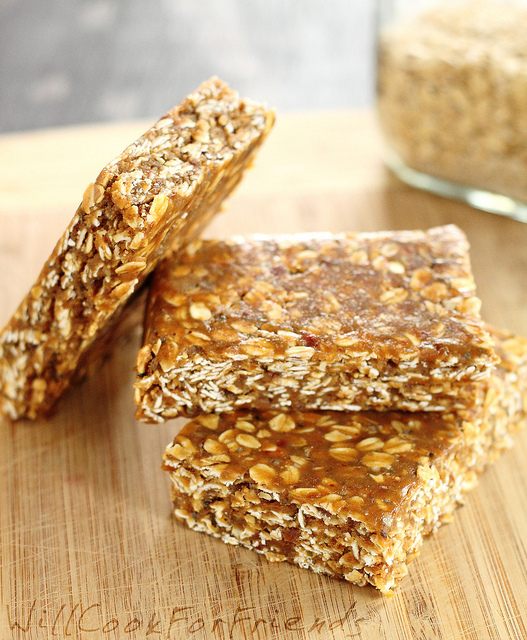 (No-Bake Banana Nut Protein Bars – recipe in post)
As many of you know, The Boyfriend and I recently went from "happily together" to "engaged". It's an exciting time for both of us… grinning faces, telling friends and family, talking about the future, planning the day…
We both agreed early on that neither of us were interested in a big, traditional ceremony. Instead, we're opting to have a small family gathering in celebration of the occasion. You would think that would makes things easier, cut down on the stressfulness of planning, but what it actually means is instead of pawning off chores and hiring out things like catering and decorations, we're doing a lot of it ourselves. Food? I'm on it. Cake? You bet! Invitations? I can print those. Playlist? He's on it. What about flowers? Those would be nice. Not to mention the hardwood floors going in… and the new fridge being delivered… oh, and remembering to bathe on a regular basis… yeah.
Long story short, things have been more than a little hectic around here. Of course, I still have to eat… but prepping and photographing actual meals has not been on the agenda. Big bowls of cereal have been the norm as of late. Oh, and cake. Lots of cake. I've made five so far, testing recipes, frostings, and techniques in preparation for the big day. The Fiancé and I talk in jest about how sick of cake we'll be when it comes time to celebrate, but the joke is getting less and less funny.
So, to prevent myself from having nothing but cake and cereal in my diet, and to keep from going full-blown crazy, I've been chowing down on my go-to protein bars. These babies have powered me through some of the most stressful situations, and they've always been there for me. I like to keep a bag of them in the freezer at all times – one bar in the morning, and I'm set for whatever the day has to throw at me. Pluse, they taste like candy. Even The Fiancé, who likes to start his day with a pastry and chocolate, loves splitting one of these with me on busy mornings.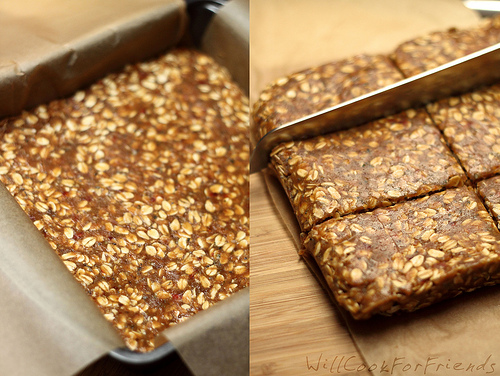 Nutrient-rich dates and a banana go in to these bars to make them sweet and chewy, along with rolled oats and nut butter for lots of quality protein and fiber. To amp up the nutrition in my bars, I always add a scoop of protein powder and lots of hemp and chia seeds – the very same combo I use in my favorite Peanut Butter Protein Smoothie (click for recipe).
This protein powder is my current favorite – it's entirely raw, gluten-free, vegan, and isn't too heavy or chalky. It also has a probiotic blend of nutrients to aid in digestion. I like to buy the unflavored version, and add a bit of cocoa powder or vanilla extract if I want to flavor it.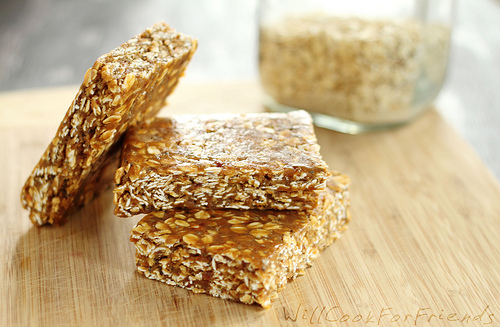 As an added bonus to having all kinds of goodness in them, making protein bars at home is incredibly easy and can save quite a bit of moolah. I always keep a store-bought bar in my purse for emergencies, but nothing beats having these at home. I especially love that I get to control what goes in, or what stays out, of my bars – so feel free to customize them as you like!

Banana Nut Protein Bars
(Adapted from my Banana Nut Butter)
Vegan, Gluten-Free – makes 6 large or 12 small bars
15 dates, pitted and soaked
1 large banana, ripe
1 cup peanut, almond, or other nut butter
1 scoop protein powder (unflavored, vanilla, or chocolate)
1/4 cup shelled hemp seeds
1/4 cup chia seeds
2 1/4 cups gluten-free rolled oats
Optional add-ins:
1 tsp. cinnamon, or
1-2 tsp. cocoa powder (if you aren't using chocolate protein powder)
Pinch of salt
Method
Soak dates in enough water to cover for 1-2 hours before using (this will help them blend easier).
Drain the dates thoroughly, and add them to the bowl of your food processor. Add the banana, and pulse to a smooth paste, scraping down the sides as needed.
Add the nut butter, protein powder, hemp seeds, chia seeds, and any add-ins you like. Pulse to combine – the mixture will become very thick and may slow down your food processor.
Remove the mixture to a large bowl, and add in the oats. Using a flexible rubber spatula, fold the oats into the nut butter paste. You'll think there's no way for so many oats to incorporate in, but just keep folding it and soon enough it will come together.
Line one 8x8inch square baking pan with parchment paper, and scoop the mixture into it. Spread it as evenly as you can with the back of a spatula, then fold the edges of the parchment over the top (or cover with an additional sheet of parchment). Press down along the top to smooth out any remaining bumps, and place in the freezer for 2-3 hours, or overnight, or until thoroughly frozen.
Remove from freezer, unwrap, and slice into bars. I like to make 6 large, meal-sized bars, but feel free to cut them smaller. Once cut, seal bars in a zip-top freezer bag and store in the freezer indefinitely. You may want to separate bars with parchment to keep them from sticking.
When you want to feel perfectly full, incredibly satisfied, and thoroughly satiated – remove one bar from the freezer, and enjoy. Fresh from the freezer they are firm, but chewy. If left out to thaw, they become quite soft and sticky. If you wanted to prevent this, it may be possible to dip the bars in chocolate to create a shell on the outside… but I've never tried.
Nutritional Information (approximate, will vary depending on the protein powder/ingredients you choose)
Per serving (1 batch = 12 servings):
268 cal. – 10g. prot. – 5g. fiber – 13g. fat (mostly heart healthy fats and omega-3's)
Perfect for a grab-and-go breakfast, a quick meal replacement, or to fuel (or re-fuel from) a workout.